Our Work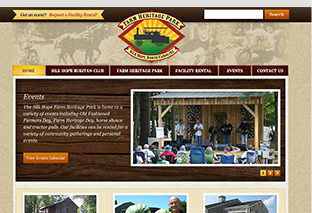 Project Overview
The Silk Hope Ruritan Club had recently completed the construction of a new community building in Silk Hope, NC and needed a website to share information about events and promote the new community center and surrounding facilities.
What We Did
Information, Inc. developed a website that provides an easy and manageable way for content to remain up to date. The new website features a rotating slideshow on the home page, event calendars for each of the rental facilities, image galleries and general information about the Silk Hope Farm Heritage Park and the Silk Hope Ruritan Club.
How We Did It
Using Drupal 6, Information, Inc. developed a fully featured website with a custom-designed theme and several custom content types to facilitate content creation.