Services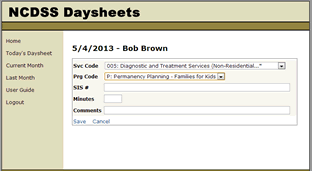 Information, Inc. Day Sheets is an employee time tracking application for North Carolina Department of Social Services employees. Time is tracked, approved and submitted to the state office all via a web interface. The system consists of four user types: Worker, Clerical, Finance, and Admin.
Workers generally only have access to see their own time entries. If they supervise other employees, however, they also can review the time entered by their team members. Typical use of the system by these user types involves entering time on a daily basis, certifying their own time at the end of each month, and approving time of those employees that they supervise. At any point during the month users can create a PDF report for all time entered for the current or previous month. Supervisors are able to generate this same report for each member of their team.
Once all day sheets for the month have been entered, certified, and approved, a Finance user has the ability to send the data to the state via the upload screen. The state requires that this be done within the first five days of each month. The system requires that all time entries entered for the submitting month be both certified and approved. If there are a few workers that have not yet done this, they system identifies these users allowing the Finance user to follow up. After submitting the data to the state, a report can be run within the State Data Warehouse system to verify success of data transfer.
Client information is entered into the system by Clerical or Admin users. SIS numbers (Client Ids) sent from the state can be uploaded in batch using a text file. This creates 'unused' SIS numbers which can later be assigned to new clients. Alternatively, SIS numbers can be added one at a time. To ensure data integrity workers are only able to select from this list of pre-entered clients when entering time.
Information, Inc. offers hosting, support and maintenance for this application. If you think this a web application could be helpful to your organization, contact us to set up a meeting to discuss how we can help.
NCDSS Day Sheets - Admin Guide
NCDSS Day Sheets - Clerical Guide
NCDSS Day Sheets - Supervisor Guide
NCDSS Day Sheets - Worker Guide
Information, Inc. Foster Care is a web-based system for managing and tracking foster care payment requests. The application allows users to manage foster children and their resource family/facility stays and will automatically calculate boarding payment requests based on the stays entered for each child.
Admins are able to generate boarding payment requests for an entire month with the click of a button. Boarding payment requests are calculated based on the child's age, facility type, and length of stay, factoring in any child income to be applied towards boarding payments. In addition to automatically generated boarding payment requests, users can add manual payment requests for additional fees such as clothing. Admins review and approve all payment requests prior to submitting them to the finance department.
Once payment requests are submitted, Finance users will receive an email notification that the payment request report is ready for review. The system supports multiple payment user roles and provides Admin users with the ability to specify separate payment accounts for line item groups such as IV-E. Finance reports only display the payment requests for accounts that they are responsible for paying.
Additional reports are available to be run at any time. Having instant access to federal, state, and local reimbursement percentages and amounts helps administrators better forecast future budget needs.
Foster Care - Admin Guide
Foster Care - Finance Guide
Foster Care - Supervisor Guide
Foster Care - Worker Guide
If you think this a web application could be helpful to your organization, contact us to set up a meeting to discuss how we can help.
Information, Inc. Reception is a web-based reception system to log client visits and assign associated tasks to workers. Receptionists enter client visits and select tasks to be performed at the visit. Tasks are either directly assigned to a worker or placed in a queue from which workers can claim a task. Workers can set their availability status via an integrated in/out board.
Supervisors can review the division work queues to quickly identify any clients with unusually high wait times. Reports for wait times and number of tasks and types are also available.
iiTimeSheets provides a simple, web-based time entry system for staff, eliminating the need for paper time sheets. Workers enter time on a daily basis. At the end of each pay period, workers certify their time. Upon certification, supervisors review and approve time entered. Administrators can then lock the month, preventing any changes to time entered without administrator approval.
PDF reports can be generated to provide real-time information about resource allocation. This can greatly speed up the process of preparing reimbursement documentation.